Austrian soprano, 1880 - 1941
Biographical notes:
Opera lore has Metropolitan impresario Giulio Gatti-Casazza enjoying himself at one of Johanna Gadski's lavish dinner parties when another guest asked what he planned to do, now that Olive Fremstad was not to be re-engaged for the upcoming season. Apparently in a rare, festive mood, Gatti dumped the salt onto the table and traced in it the letters K-U-R-T. He was referring to Melanie Kurt, a dramatic soprano who had initially "caught his ear" in Europe in 1912. Born in Vienna, Kurt had begun her musical career as a concert pianist. She then studied voice with Lilli and Marie Lehmann in Berlin, and frequently "earned" her own lessons by playing the piano for other students' sessions (including those of Geraldine Farrar). Kurt made her operatic début as a youthful Elisabeth in Tannhäuser at Lübeck in 1902, and was subsequently engaged at Brunswick (1905 – 08) and Berlin (1908 – 12).
By the time Kurt made her Met début (as Isolde on February 1, 1915), the "Great War" was well under way in Europe, so her New York career was predestined to be a short one. But despite this, and the fact that she was expected to fill Fremstad's formidable shoes, Melanie Kurt received much critical acclaim during her three Met seasons. She was very well received as Brünnhilde, Kundry, Leonore in Fidelio , Pamina, Sieglinde, Santuzza, Amelia in Un Ballo in Maschera, Iphigénie in Iphigénie en Tauride and other roles.
After the United States joined the European conflict in 1917, Kurt's American career came to an abrupt end. When the war ended she returned to Europe and resumed her career, but in 1938, once more on the run from a war, she returned to New York and taught there till her death.
Recordings: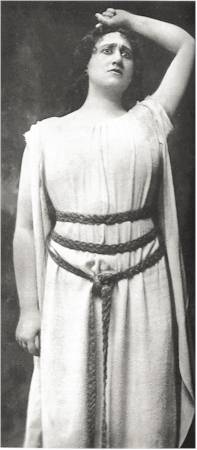 Melanie Kurt was fortunate in that hers was one of the rare dramatic sopranos that were treated fairly well by the pre-microphone recording processes. We are fortunate that she made a sizeable number of them for the Parlophon and Gramophone labels, and that her repertoire is well represented in both the Wagnerian and Italian wings (even if the latter selections were frequently sung in German). Also of significance is the fact that a number of Kurt's records are duets with the splendid heldentenors Jacques Urlus and Karl Jörn; in these we are treated to excerpts ranging from such diverse works as Die Walküre to Cavalleria Rusticana. Melanie Kurt's records, for the most part, were made when she was about 30, so we are also treated to the great Wagnerian, captured for the ages, in her relative youth.
Considering her reputation as a Wagnerian, it is only natural to head straight for her Isolde. She recorded "Mild und leise" for Parlophon in 1911, and here, as elsewhere, the voice is warm and steady – and ironically reminiscent of Olive Fremstad. She sings the music well, despite an occasionally forced top, and glides through the score with an appropriate build up of dramatic intensity, only to disappoint in the final F sharp, the very essence of the piece. She does not linger on the note, floating it till it disappears into lovely oblivion; she drops it rather abruptly while the orchestra carries on without her. Kurt was not alone in this missed opportunity; many Isoldes of her era gave this magical note the same value. Still, satisfying examples of Isolde's transfiguration are hard to come by, and Kurt's rendition is one of the better early attempts.
The darker shading of Kurt's voice is extremely effective in a couple of excerpts from Parsifal , the passages beginning "Ich sah das Kind" and "Seit Ewigkeiten harre ich deiner." The second excerpt is especially distinguished and thrilling. Here Kurt is thoroughly convincing in Kundry's anguish; she sometimes seems to literally, and appropriately, choke on the poor wretch's words. What must Kurt have sounded like in this role on the stage !
These are but examples of how she was able to "act" with her voice, even on ancient records. Something immediately noticeable after even a quick sampling of Kurt's recordings is that they rarely sound like mere studio "run-throughs" to sell a few copies. This rare, remarkable quality in her singing is especially appreciable in an extended scene between her Brünnhilde and Urlus' Siegmund, recorded on two sides in 1910. Here, if the listener closes his or her eyes and uses a little imagination, it is almost possible to transcend the decades, and feel for a few brief moments that he or she is in a great house of the distant past, listening to a live performance. The interpretations of both artists are just that vivid and sincere.
Melanie Kurt manages to impress in a wide variety of music. Amelia's arias from Verdi's Un Ballo in Maschera (here "Ein Maskenball") are delivered with her usual sense of drama and lovely legato. She swells to the higher reaches of the music with no difficulty. Also from her Verdi repertoire, Kurt's Aida in confrontation with Ottilie Metzger's Amneris is a classic interpretation.
Recordings:

Recital (Arias by Beethoven, Meyerbeer, Verdi, Wagner, Mascagni)

Preiser - LV

Von der königlichen Hofoper zur Staatsoper 'Unter den Linden'

Preiser - LV

Jacques Urlus: Recitals

Preiser - LV

Friedrich Schorr: The Complete Acoustic Polydors (Duets)

Preiser - LV

Margarete Matzenauer: Recital (Duets)

Preiser - LV

Souvenirs from Meyerbeer Operas

IRCC

The Recording of Singing Vol. 2 (Vol. 3 and 4 released on CD)

EMI

Covent Garden on Record Vol. 2 and 3

Pearl

Mike Richter's Opera Page: Stars of David/The Record of Singing Vol. 2

CD-ROM
Melanie Kurt, Ruggiero Leoncavallo and Leo Blech in the composer's opera "Maià", Berlin

Siegmund, Sieh auf mich! with Jacques Urlus (Sieglinde in Die Walküre / Wagner / Gramophone 1910)

My warmest thanks to George Parous