Solomiia Krushelnytska (Krushelnytskaya)
Ukrainian soprano, 1872 - 1952
Biographical notes:
Solomiia Krushelnytska was born near Lemberg (today Lviv, in Polish Lvov) in Western Ukraine, which was in the 19th century, part of the Austro-Hungarian Empire, having been folded into that Empire as a conquered province of Poland. The artist studied at the Lviv Conservatory under Valery Wysocki, one of the leading Polish teachers whose pupils included Janina Korolewicz-Wayda and Adamo Didur. She made her debut in 1892 as Leonora in Donizetti's La Favorita, at the opera house of Lemberg, and continued to study with F. Crespi in Milan. She appeared in Odessa (1896-1897), Warsaw (1898-1902) and St Petersburg (1901-1902). In 1898 she sang in Italy for the first time (Leonora in La Forza del Destino). She was highly successful and was invited to sing in Rome (1904-1905), Naples (1902/1904) and at La Scala in the seasons of 1898/1904/1907/1909 and 1915. In 1903 after becoming involved in a political demonstration in Warsaw she settled in Italy. At La Scala her Aida was a triumph. Her rendition of the title role in Puccini's Madame Butterfly in 1904 contributed to its admission to the world repertoire. She was the first Francesca in Mancinelli's Paolo e Francesca and took also part in the world premiere of Cilea's Gloria. A further milestone was her sensationel Salome in Richard Strauss' masterpiece, conducted by Arturo Toscanini. In 1915 she created Pizzetti's Fedra. She made regular visits to Spain, Portugal and South America (Buenos Aires 1906/1908/1910-1913). At La Scala she was one of the leading figures in the introduction of the German repertory. She was an acclaimed Isolde, Brünnhilde, Elektra and Salome (sung in Italian). Her repertory included 60 roles. In the mid-1920s she turned from the opera stage to concert recitals in which she sang songs by Monteverdi, Mozart, Mussorgsky, Gluck, among other composers. She particularly enyoyed to sing Ukrainian folk songs to her own piano accompaniment. From 1944 until 1952 'La Krusceniski' taught singing at the Lviv Conservatory.
Salomea Krusceniski - Salome - Richard Strauss
Salomea Krusceniski as Cio-Cio-San
The first performance of Madame Butterfly, in February 1904, sung by Rosina Storchio, Giovanni Zenatello and Giuseppe de Luca was a disaster, in which Puccini was accused of plagiarism of himself and other composers. He at one withdrew the opera and made alterations to the score. The second performance of the opera took place in May, that same year, at the Teatro Grande, Brescia. Rosina Storchio was replaced by Salomea Krusceniski. This time the opera enjoyed a great triumph.
Recordings:

Recital (Arias by Boito, Cilea, Meyerbeer, Verdi, Wagner, Puccini, Ukrainian folk songs)

Pearl

The Stars of the Warsaw Opera House - The Unknown Recordings 1902 - 1927

Minerva

Mike Richter's Opera Page: The Record of Singing Vol. 1

CD-ROM
Salomea Krusceniski was admired and loved by Arturo Toscanini who proposed to her, but she refused...

Comment:

Krusceniski's records are rare. She belonged to those pre-electrical sopranos who do not sound pre-electrical. One reason for that was certainly her distinctive mezzo timbre (reminding me on Giannina Arangi-Lombardi). The recordings made in 1906/07 are particularly interesting because she had gained a lot of experience by working with Arturo Toscanini. Despite of the rather noisy sound you can hear a truly great singer in her prime. The high notes are of superb quality (Pace, pace, mio Dio). Margherita's aria from Mefistofele is one of the best renditions on records. Her superb tone in the middle register is admirable. Occasionally, there is a unevenness of vibrato, but this was part of 'verismo style' at the time. Brünnhilde' battle cry is sung with a perfect trill!

Her recordings: (titles on Pearl)

G & T (1902):

- The Piper's Song (Paderewski)

- I wish I were a lark (Title role in Halka / Moniuszko)

- Solveig's Song (Solveig in Peer Gynt / Grieg)

- Vissi d'arte, vissi d'amore (Title role in Tosca / Puccini)

Fonotpia (November 6, 1906):

- L'altra notte (Margherita in Mefistofele / Boito)

- Ecco: Respiro appena...Io son l'umile ancella (Title role in Adriana Lecouvreur / Cilea)

- Lasciali dir, tu m'ami (Quaranta)

- Pace, pace, mio Dio (Leonora in La Forza del destino / Verdi)

Fonotopia (November 8, 1906):

- Ebben? Ne andro lontano (Title role in La Wally / Catalani)

- Ti rivedro (Tosti)

- Capelli d'oro (Oddone)

Fonotopia (November 11, 1907):

- Ritorna vincitor! (Title role in Aida / Verdi)

Poveri fiori (Title role in Adriana Lecouvreur / Cilea)

- Si mes vers avaient des ailes (Hahn)

Fonotipia (March, 1912):

- Allor, che tutta noi...Da che tutta (Title role in Loreley / Catalani)

- Ho-jo-to-ho! in Italian (Brünnhilde in Die Walküre / Wagner)

- Einsam in trüben Tagen in Italian (Elsa in Lohengrin / Wagner)

- Un bel dì vedremo (Cio-Cio-San in Madame Butterfly / Puccini)

- Di qui si vede il mar...Quai soavi concenti (Sélika in L'Africaine / Meyerbeer)

Columbia (March 1, 1928):

- Four Ukrainian Folk Songs (with orchestra accompaniment)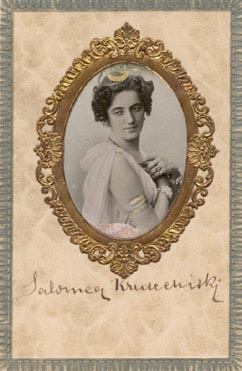 Lviv State Academic Theater of Opera and Ballet
in the name of Solomiia Krushelnytska
My warmest thanks to Andrew E. Yarosh