Many thanks for your kind compliments and suggestions

January 1 - December 31, 2000

Guestbook 2001 Guestbook 2002 Guestbook 2003 Guestbook 2004

Mark Leung Australia / December 27, 2000

Thank you very much for the very informative website - I love it... We stumbled across Eleanor Steber when we started learning "Do not utter a word" from Barber's Vanessa and we love her recording. This led me to look for information about Steber and later on other singers (della Casa, Slobodskaya, Wunderlich etc). I find myself going to your website almost by default...

Kyung-ihl O' South Korea / December 24, 2000

I am an opera lover and have been learning lots of valuable things in your wonderful website 'cantabile-subito' every day. I appreciate your priceless effort of keeping this great site...

Thank you so much for your lovely eCard.




Clement Perry USA / December 21, 2000

I just happened to stumble upon your site and fell in love. I am publishing a site of my own known as The Stereo Times and you can access it at http://stereotimes.com.
After editing some great works for Igor Kipnis, I found your site...

Clement Parry is the publisher of the audiophile magazine THE STEREO TIMES.

C.S. France / December 11, 2000

Félicitations! Après avoir erré des heures pour chercher des éléments relatifs à un travail spécifique, votre site m'a offert une base de travail incomparable. Merci.

Wilhelm G. Busse Germany / December 7, 2000

Gerade habe ich mehr durch Zufall Ihre Internet-Seiten gefunden: Alle Achtung, das ist eine tolle Leistung, mit guter Präsentation,hervorragender und gut recherchierter Information und Hingabe zur Opernmusik! Es wäre schön, wenn möglichst viele Ihre Seiten sehen würden; tröstlich ist, daß es draußen in der Welt noch so viel Interesse an der Geschichte des Gesangs vor 1960 gibt. Herzlichen Dank für Ihre liebe Mühe.

Roman Khadin Russia / December 6, 2000

Thanks for your site. Beautiful job. I told all my friends about it. Great photos, really great! Nice records. I can't help admiring your site. What amazed me - the extensive material about Russian singers. That's very pleasant. I hope your site will extend. Good luck and popularity to your site. Thanks again.

Kornel Szalai Hungary / December 1, 2000

My name is Kornel Szalai from Budapest (Hungary). I would like to say thank you for that superb opera-website, just fantastic! Me and my parents love these old recordings, they were all real singers (nowadays unfortunately hard to find). We obviously have the same taste, sharing a lot of similar opinions. Thank you again for making these pages!

Rene Sierra Argentine / November 30, 2000

I was discovering your magnificent page just today and I'm very happy about it.

I'm Rene Sierra, I live in Carlos Paz, Cordoba, Argentine, at a beautiful place near a lake, surrounded by hills. I'm a dermatologist, but my second occupation is broadcasting classical music on Radio and TV. My programs are: "Clasicos para Todos" (TV), La Mosca Blanca (The White Fly), a medley of light classics and the best of opera and popular singing. In AM station I made a 'strange' thing called "El Desconcierto" ("The Disc-Concert"). I am a member of the Musical Critics of Argentine. Congratulations and success!!!...

Enrique Rodríguez ? / November 29, 2000

Podría intentar decirlo en inglés, pero no expresaría lo que realmente siento. Siento una gran admiración por la mezcla de belleza y calidad que has conseguido en tu página. Solo un 'alma grande' es capaz de algo así. Mi más sincero reconocimiento.

Mark Jones England / November 28, 2000

I just had to send you an email to congratulate you on your splendid website. It was a joy to visit and lifted my spirits enormously. The fact that you adore opera and appreciate roses is a double joy...


I was particularly pleased to see you feature Kyra Vayne on your website. I simply cannot understand why there isn't a greater appreciation of her remarkable talent. You might well know of my website dedicated to her:-



www.dcpskent.org/kyravayne/

If features a rather charming picture of her with a celebrated Dane from when she sang in Aarhuus. Have you read her autobiography yet? 'A Voice Reborn' is certainly worth bringing to the attention of other opera fans, whimsical and unconventional, it makes very entertaining reading...

Thank you again and may your path be wafted with the scent of roses.

Visit Mark's website.

Barry Brenesal USA / November 24, 2000

A fine webpage; I congratuate you on the combination of taste, love and discipline you have lavished upon it. It was particularly refreshing to see mentions of artists far too little known in the West, such as the great Pavel Lisitsian (who, incidentally, also recorded one of the leads in Moniuszko's opera, Halka, for Melodiya). Your efforts are appreciated!



Sharon Selman USA / November 10, 2000

I have just visited your site. It is fantastica!! I have always been fascinated by old recordings. I loved the site dedicated to Maria Callas and Rosa Ponselle. I am particularly interested in any information you may have on Elvira de Hidalgo who taught Maria Callas. I am studying the same technique. I also loved the pictures of the roses. It reminded me of a beautiful rose I saw in France this summer. It was called Claude Monet. It was a really beautiful rose, it looked a little like raspberry ripple icecream,but more like an impressionist painting, each rose being different as if painted by the great masters. Your site must have you taken a great deal of time and has brought a great deal of pleasure to many people...

Charlie Handelman USA / November 1, 2000

What a gorgeous site! I just wanted to tell you that you are a true GENIUS! I rarely have enough time to explore all the treasures on the Internet...probably spend too much time ranting and raving on various opera forums...but I spent more time tonight here...and you are to be congratulated for your tremendous efforts!

Visit Charlie's website: http://ourworld.compuserve.com/homepages/handelmania

Steven Hall USA / October 29, 2000

I am so completely amazed by the amount of material you have listed here! Thank you so much for the time and effort you have spent in doing this. I am a singer in the midst of making the transition from baritone to tenor much like Zanelli did. Being able to read about these people helps me as well. Thank you.

Philippe Do France / September 15, 2000

I just found your web site, and I am only starting to explore it (E. Rethberg, C. Muzio...). I think it is absolutely remarkable and though I am sure it will teach me so much more about singing, I wanted to thank and to compliment you about it.

Alex Italy / September 15, 2000

Thanks for your page!!
I hope you know my page: Great tenors of the past www.crosswinds.net/~greatvoices/

Visit Alex' tenor website with a huge amount of audiofiles, including recordings of singers who are off the well-trodden path...

Laura Semrau Austria / September 1, 2000

Congratulations, great site, good taste! Got to your website in search of information about Rogatchevsky.

Martha Casal Uruguay / August 28, 2000

Congratulations to your wonderful website. It's very nice, and we can easily see your effort.
I came through it because I was looking for a place where I could know about Giuseppe Anselmi, because he was a friend of my grandfather. Anselmi sent to him some beautiful postcards with his photo and his signature. They both had been at Milano studying music.
You can see that my English isn't very good, because in my little country Spanish is spoken. Congratulations!


John C. Koershuis Canada / August 22, 2000

Thank you Andrea,

Dankeschön Andrea,

for making all this available!

für's Möglichmachen, dass wir uns das alles anschauen können!

Jeffrey A. Fox USA / August 20, 2000

I found your wonderful site this morning on doing some looking for Olive Fremstad. I must say that this will be a home base for me for quite some time being a collector for the last 45 years.
Do you know anything of a young soprano by the name Felice Lyne? She made 4 sides for Columbia circa 1915. I have wondered for years who this young lady was and what ever happened to her. Keep up the great work.

Information about Felicie Lyne:

- March 28, 1887 (Slater, Missouri) - September 1, 1935 (Allenstown, Pennsylvania)

- Childhood in Kansas City. Her father and grand-fathers were surgeons

- Studied with Mathilde Marchesi de Castrone, Lloyd d'Aubigné and Jean de Reszke!

- Début as Gilda at Hammerstein's opera house as Gilda (opposite Maurice Renaud)

- Various first performances: Among others Massenet's Don Quichotte (first English performance, as Pedro)

- She also appeared as Oscar and Marguerite

- She was engaged at Hammerstein's opera troup until 1913

- She toured the U.S.A. with the Quinlan Opera Company

- Later she was a member of the Boston Opera Company (she sang there Nedda and Elvira in Auber's La Muette de Portici opposite Giovanni Zenatello)

- The career of Felice Lyne was considered to be very short (??)

You are right, she recorded 4 sides for Columbia in 1915. I'm afraid I don't know anything about Felice Lyne. I condensed her biography from the "Grosses Sängerlexikon" by Kutsch/Riemens. I assume that you listened to the only opera aria she recorded. It sounds very interesting since she was a student of de Reszke and Marchesi.

Antoinette Tedesco-Bell USA / August 19, 2000

What a beautiful site to visit. I found your site while researching Viviane Della Chiesa. I would love to have all the information possible,including photos, and current status. Thank you.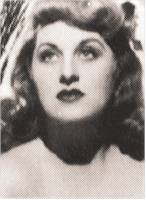 Here some infos about Viviane della Chiesa:
- Born: October 9, 1915 (Chicago)
- Teachers: Forest Lamont and Marion Claire
- Winner of a radio competition in 1934
- Debut as Mimì (1936) in Chicago
- She sang Adina opposite Tito Schipa in the same year!
- Repertory: Eudoxia (Halévy/La Juive), Marguerite, Micaela, Tosca (she was very successful in this role in 1944), Mignon, Carmen
- She also appeared at the opera houses of Cincinnati, Havana, San Francisco as: Donna Elvira, Nedda, Musetta, Desdemona, Alice Ford, Marina and Santuzza
- In 1943 she appeared in Pittsburgh, at New York City Opera and in Toronto as Maddalena
- In 1947 she toured Australia and New Zealand
- She was one of the singers who created Montemezzi's radio opera L'Intecantesimo
- She also gave concerts and was a recitalist
Recordings:
- Brahms: German Requiem, conducted by Toscanini (Herbert Janssen is the baritone)
Avoid the label Grammofono which is one of the unrecommendable budget labels. They add heavy audio processing (phase shifting, echo and the like) to the recordings. The sound is very bad and simply unusable!
- Souvenirs from Verismo Operas Vol. 4 (IRCC)
- A 1940's Radio Hour Vol. 2 (IRCC)
- Verdi/Falstaff, conducted by Cellini (1956 live, VAI)
- Verdi/I Lombardi, conducted by Toscanini (1943 Studio, RCA)
José Carlos Neves Lopes Brazil / August 15, 2000 sites.uol.com.br/jcnlour/personalidades/index.html
Congratulations Andrea, it is the most lovely site of music I saw.
l love Christa Ludwig too. I`m happy with your words about her and I liked the very beautiful photos. I have a little page dedicated to Christa. Your roses are very beautiful too.
Visit José's website.
Anthony Shuttleworth Switzerland / August 14, 2000
I recently came across your interesting website and, as a great fan of Kathleen Ferrier, I perused your entry on her. There I noticed that the caption to the second photo is incorrect. Please permit me to offer a correction.
The caption reads "Kathleen Ferrier, Peter Pears and Benjamin Britten looking at the score of The Rape of Lucretia". In fact, they are looking at a phone book. I'm not joking!
Maurice Leonard in his biography Kathleen: The Life of Kathleen Ferrier captions the same photo (facing page 147) "With Peter Pears and Benjamin Britten, using a telephone directory as a score for a photo call, 1952". Maurice Leonard explains in his text (page 220) that, at a joint recital on 5 October 1952, "The press requested a photograph of the three of them grouped around one of Britten's scores. As no music was to hand, Kathleen took the telephone directory, which looked remarkably like a score when opened, and sang the name 'Smith', to give her mouth the right shape." The same biography does contain a wonderful photo (facing page 114), taken at Glyndebourne in 1946, in which Eric Crozier holds the score of The Rape of Lucretia whilst Kathleen, Britten, Pears and others look on. But, in any case, it seems unlikely that Kathleen, Britten and Pears would look together at the score of The Rape of Lucretia in 1952, since Kathleen's last performance of this work was, as far as I know, in the autumn tour of 1947, and the last appearance with Britten and Pears was in Holland in the autumn of 1946. It is perhaps an interesting coincidence that the published recording of The Rape of Lucretia was made on the same date as the 'phone book recital', i.e. 5 October - but, of course, the recording was in 1946. In fact, there is some doubt about the exact date of the Amsterdam recording and whether it was really conducted by Benjamin Britten, but that's another story...
Dr P. Razvan Romania / August 2, 2000
IT IS A PLEASURE TO VISIT YOUR SITE.
I MUST MENTION ABOUT YOUR CAPTION ABOUT NICOLAE HERLEA , THAT HE WAS ONLY ONE OF THE LEADING BARITONES IN BUCHAREST AT THE THEATER NICKNAMED THE THEATER OF OPERA AND BARITONES . (I WAS A NEARLY EVERY NIGHT SPECTATOR IN MY MEDICAL STUDENT YEARS ). OTHERS WERE DAN IORDACHESCU, DAVID OHANESSIAN, VASILE MARTINOIU AND FIRST OF ALL SERBAN TASSIAN AND PETRE STEFANESCU-GOANGA.
Larry Massen USA / July 24, 2000 My first glance through your website and just wanted to send you a note to let you know how much it is appreciated.... am just a novice at both opera and historical figures in opera but hopefully your well-designed and informative site will help change that.... hats off to you and all who have helped put this together!
Thanks for the great website. I never realized there was so much to be said and offered to the public about such great singers.
Michael Delos USA / July 13, 2000 / www.ups.edu/faculty/mdelos/vocal.htm
Just out of curiosity, what would be your 10 recordings that you would
take to a desert island? I'm always interested to hear other people's choices.

Here they are:
1. Lawrence Tibbett: È sogno, o realtà (Verdi/Falstaff)
2. Margarete Klose: Mutter, o sing' mich zur Ruh (Song by Robert Franz)
3. Hina Spani: Cancone del carretero (Song by Buchardo)
4. Elisabeth Rethberg: Rosalinde's "Csardas" (Strauss/Die Fledermaus)
5. Alexander Kipnis: Ich wandte mich und sahe an (Song by Brahms, from 4 ernste Gesänge)
6. Germaine Cernay: Pleurez, mes yeux (Massenet/Le Cid)
7. Giannina Arangi Lombardi: Com'è bello, quale incanto (Donizetti/Lucrezia Borgia)
8. Antonio Cortis: Nessun dorma (Puccini/Turandot)
9. Virginia Zeani: Ah! Je suis seule! (Massenet/Thaïs)
10. Pasquale Amato: Credo in un Dio crudel (Verdi/Otello)
Two of the most humorous recordings:
1. Barbara Marchesi (she was almost 70 at the time of the recording): Sicilian Cart Driver Song (simply great!)
2. La Novikova in Offenbach's "La Périchole." La Novikova sings in Russian!...
Bill Tamerlane USA / July 13, 2000
I have been searching for such a website as yours for a very long time. How wonderful that I've finally found it. I assure you that I will return to it again and again and will divulge its existence to all my friends who love and collect performances of the past and present. Thank you!
Michael Delos USA / July 7, 2000 / www.ups.edu/faculty/mdelos/vocal.htm
I am so impressed with your wonderful website!! I have just finished my own, for my voice students to use as a resource, and invite you to visit the site and use any photos or information you like.
You will notice that we share a passion for many of the same singers, notably Ponselle, Ludwig and Eleanor Steber. I would very much appreciate it if you would list my site as a link for various singers in your "Links" section.
I know how hard I worked on my site, and I am in AWE of how much work must have gone into your site!!
Visit Michael's website.
Ross Halper USA / May 30, 2000 / www.sfo.com/~rhalper
Great opera site. The tenor Anselmi presentation is very beautiful. Thank you.
Visit Ross' website.
Maria The Netherlands / May 12, 2000
Während meines Aufenthaltes in Kanada entdeckte ich Ihre Seite. Ich kann nur sagen, höchstes Lob. Besonders Ihre Seite über Fritz Wunderlich ist sehr beeindruckend. Nächste Woche,wenn ich wieder in den Niederlanden zurück bin, werde ich mit Vergnügen Ihre Seiten intensiver studieren.
Linda Kaumey USA / May 6, 2000

I discovered your site last week and I echo the sentiments of the other writers. Your link regarding Eleanor Steber is outstanding and one of the best I have found so far.
Leslie Anne Michelson USA / April 16, 2000

I enjoy browsing your site. Just to let you know. The birth and death dates of Cesar Vezzani (one of my favorites) are wrong. I believe they are 1886 (some say 1888) to 1951. There appears to be some ambiquity about the birth date. Thanks! Keep up the good work.
Thank you. Sorry for the wrong dates.
Joseph D'Amico Malta / April 7, 2000
A MAGNIFICENT OPERA SITE FOR MUSIC LOVERS WHICH I WAS LUCKY TO DISCOVER LATELY.
Victor Han Canada / March 27, 2000

I have come across your wonderful website dedicated to great singers of the past.

I am totally surprised that this wonderful resource has escaped my attention until now and wish to express my admiration for your work, both in presentation and contents. Very seldom does one find on Internet sites, not only information but also opinion, expressed in a clear and knowledgeable manner.

I share your enthusiasm for many of the singers presented, as exemplified in my own small contribution at the website http://russia.uthscsa.edu/Music/GRV.

I have already added a link to your pages in the links section of my little site. I hope you don't mind. Thanks again and keep up the good work!
Visit Victor's homepage.
Tom Thorbeck USA / March 23, 2000
Great Site. Andrea, you have put together a most impressive collection and web page. Are most of your operas on CD or also LP?
The opera recordings mentioned on my website are available on CD.
Bill Fiorelli USA / March 11, 2000
I am so impressed with your web site! It is truly wonderful. I am a Stignani admirer and discovered your site while doing a search on her. I was surprised to find so much information on some of my other favorite ladies: Spani, Arangi-Lombardi, Muzio, and Steber. Best of luck in the completion of your project.